Interesting vehicle -- especially the part about the radio. I guess the driver set the channel before leaving and choose to stay happy with their choice during travel.
Based on the description and photo I think the Willys Jeep Station Wagon, as the name suggests, is the forerunner of the modern station wagon, not the SUV. Station Wagons are/were designed to have extra trunk space. The SUV was designed (originally) to go off-roading. I think the Land Rover and original military Jeep are closer ancestral kin to the modern SUV.
Colin, I'm convinced that any initiative that doesn't take into account the unique nature of New York City will have unintended negative consequences.
The New York Times article is lacking in perspective. While I understand the desire to tame traffic and make walking and biking safer, and I applaud efforts to do so, most of the pedestrians in New York are not New Yorkers.
On any given day the number of arriving commuters ie equal in size to the local residential population of Manhattan. The United States Census Bureau Reports (2013) that 1.6 Million workers commute into Manhattan daily. Many of those commuters are from the towns in northern, and central New Jersey, southern Connecticut. Manhattan (also known as New York County) has among the highest number of commuters coming from another New York County (mostly Queens County, Brooklyn (Kings County), and Staten Island) in the nation. They arrive mostly via bus and rail but some do drive in.
The commuters -- I will be one of those commuters starting later this week1 -- arriving via New Jersey Transit are at the mercy of an aging transit system. A commute from Princeton to Penn Station (New York) via NJ Transit can take anywhere from 45 minutes to 90 minutes depending on whether one catches the express train (fewer stops) or the local train. An additional 30 minutes if you commute to downtown or near Wall Street. Recently NJ Transit has had many issues with the trains and the commute times have become unpredictable.
Despite so many constituents depending on the system, NJT has fallen into disrepair over the past decade. Years of neglect have turned NJT into an unpredictable and unreliable system to the thousands of commuters that use it every day.
….
In a given five day work week, you have a 94% chance of being delayed into New York Penn at least once.
A recent tweet from a friend who commutes to Manhattan.
Worst part of leaving NYC pic.twitter.com/WdEfYoZvi0

— (its).aneesha.kay (@itsaneeshakay) May 5, 2018
And the commute times are about to get worse.
Elise Young reporting for Bloomberg:
This month, NJ Transit said it would have to adjust weekday rail schedules beginning June 4 to allow for hardware installation. It's scratching 14 routes, leaving riders to squeeze aboard earlier or later trains, some that already are often jammed with standees.
Driving into Manhattan is not without peril. You are often just one accident away from sitting inside a tunnel sucking in exhaust fumes.
But when I see traffic in New York City, my personal observation is that it's mostly New York City Yellow cabs zipping people around town who want a more comfortable2 (and often faster) ride or for whom depending on the transit system to get them into the city is a non-starter.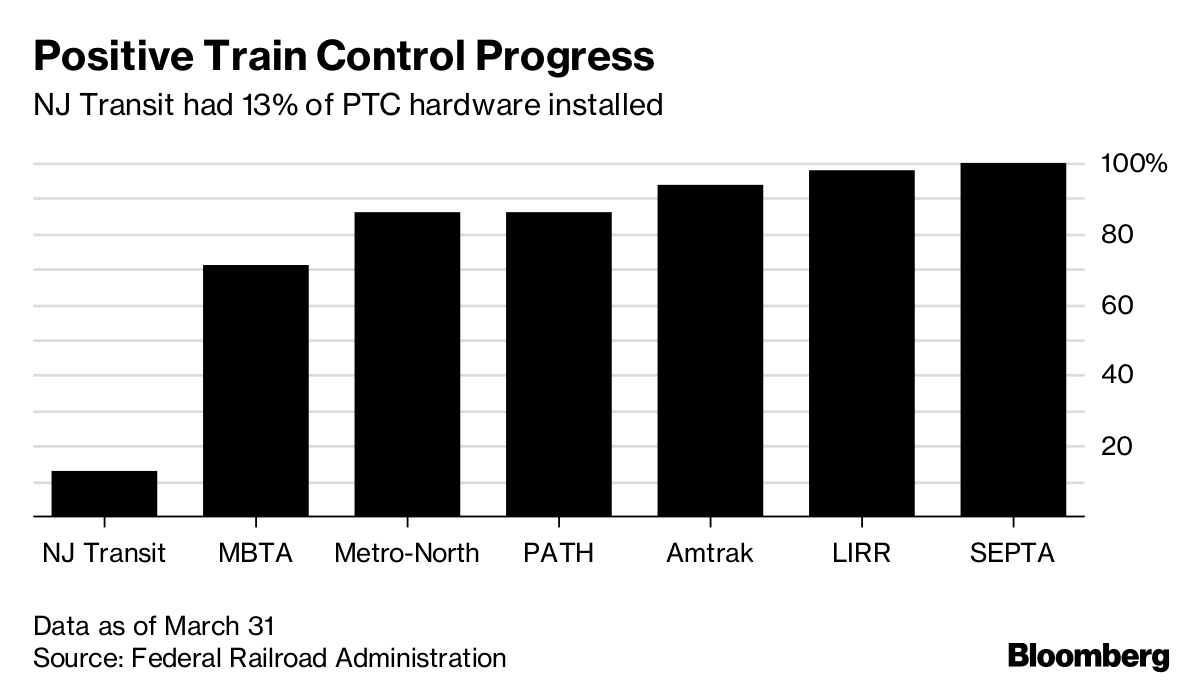 When my kids were younger we often visited the city, mostly to the American Museum of Natural History. We would finish our day with a leisurely walk through Central Park. I didn't want to deal with the hassle of parking so we always took the train from Princeton Junction and then a subway ride that delivered us right inside the museum. We would leave the Princeton Junction train station around 9 AM and arrive in the museum about 90 minutes later. That same trip with the current NJ Transit schedule would take over two hours. I haven't been into Manhattan in a few years. I'd rather drive to Philadelphia (45 minutes). The distance driven is the same.
And I'm not sure that the European cities mentioned in that New York Times article are a good model for New York City.
Copenhagen may have a justified reputation as a cyclists' paradise, but over the past three years, something shocking has happened: The proportion of bike commuters on the city's roads has been going down. Since 2014, the share of commuter trips made by bike has dropped by 4 percentage points, from 45 percent in 2014 to 41 percent now. The modal share for bikes for all journeys, meanwhile, has stagnated. Currently, 24 percent of all trips in the Danish Capital Region take place by bike, a rise of just 0.2 percent since 2012.
And Paris
Unsurprisingly the research by the RegionsJob site, which showed that just over three-quarters of people working in the French capital are ready to earn less for an equivalent position in exchange for a shorter commute, also shows strong disparities between the Paris region and provincial cities.

Public transport is used far more in Paris, with cars only accounting for 29 percent of commutes while this figure is reversed in other parts of France, the study showed.
So what does all of this have to do with reducing road speeds and making New York City streets safer for bicycles and pedestrians? Perhaps nothing. I am just pointing out that most of the pedestrians and drivers in New York City are commuters from other states and boroughs. And while they won't argue against safety, I think most of them are more concerned with more efficient ways to get into Manhattan for work.
Speaking to a local radio station earlier this year, the general manager of L.A.'s Department of Transportation, Seleta Reynolds, said the fundamental questions for L.A. are the ones one that many cities are grappling with: Are city streets for the residents who live in the immediate neighborhood, or the commuters who use them to get somewhere else? And which users should get priority—the ones behind a steering wheel, or a handlebar? How to Kill a Bike Lane
Bicyclers in New York City are their own worse enemy. 5,000 Bicyclists Busted For Running Red Lights In 2018.
The NYPD says it has busted nearly 5,000 cyclists in the first four-plus months of 2018 for running red lights, which is a few hundred more violations than at the same time last year.

The Department of Transportation has installed more than 100 traffic lights specifically aimed at bicyclists. To avoid collisions, bike riders are given the green light about six to 10 seconds before vehicle traffic headed in the same direction.

Almost all of the lights are in Manhattan.
According to the New York Times:
New York City is in the midst of a cycling boom. New Yorkers are riding bikes more than ever, both as a commuting option and a recreational activity. But with that growth has come a steady increase in the number of riders who flout traffic laws, ignoring the fact that their actions can have tragic consequences.

I know this firsthand. On March 9 at about 6:30 p.m. in Washington, my mother, Jane Bennett Clark, stepped onto the street on her way to the subway after work. It was an unseasonably warm and beautiful day, and I like to think that as she stepped off the curb she was in a cheerful mood, thinking about the weekend ahead.

Those were among her final conscious moments.

Seconds after she set foot in the crosswalk, a cyclist plowed into my mother with such speed that he broke her collarbone and multiple ribs. (My mom, who followed pedestrian laws with a near-religious fervor, had a green light.) She fell back on her head, fractured her skull and lost consciousness soon after. The cyclist was cited for disobeying a traffic device. The next day, my mother was declared dead at the hospital.

She was 65, a journalist, a mother of three, a partner, a daughter and a new grandmother.

My mom was struck in Washington, but it could have happened in New York. Both are among the most bike-friendly cities in the country. As The Times reported last month, there are more than 450,000 daily bike trips in the city. With 10,000 Citi Bikes and ubiquitous bike lanes, the streets are more hospitable than ever to bicycle commuters. And those increases aren't unique to New York. Between 2000 and 2013, bike-commuting rates increased 62 percent on a national average, according to the League of American Bicyclists.
Perhaps that's why I've come to refer to New York City as the "Zoo".
---
The client company is transitioning from Manhattan to New Jersey but due to a lack of parking at the New Jersey location I am required to report to the Manhattan location temporarily. ↩
Have you ever stood on a crowded subway platform in the heat of July and August in a full suit and tie waiting ten minutes for a train? You'd better be fit, use really good deodorant and be properly hydrated. ↩