I like the way the morning light lit the kitchen countertop. Continuing the Lens-Artists "everyday objects" theme, I photographed the components of my breakfast. Yep, random.
---
Hamish Gill of 35mmc had a realisation regarding his film photography hobby.
The issue I've suffered, in short, comes down to the fact that it feels like everything within film photography has gone up in price. The point & shoot cameras I used to buy cheap aren't nearly as easy to find cheap any more. The film has gone up in price, and so now I spend more money on it, I am more keen to spend more on processing it too. All this has changed my attitudes slowly, but quite profoundly over the last few years.
I started back into film photography last year, and I think I've been on the same journey as Hamish except I came to a similar conclusion much faster.
Up until I discovered 35mmc, I had no interest in 35mm film photography. I gave it up in 1999 for digital.
I had my dad's Asahi Pentax Spotmatic II, but it had fungus in the lens and prism. Then my father died last Spring, and in a fit of nostalgia, I bought a working Spotmatic II on eBay and had it cleaned, lubed and adjusted. Then I bought five rolls of film. Then I bought an ES II and had it CLA and bought rolls of Ektachrome, Ilford HP5 Plus, and Velvia. And then I found my college camera, a Pentax P3. Then I found my dad's Canon Rebel 2000. Then I discovered Facebook Market Place. Today I bought a Minolta X-700 with a Rokkor-X 50mm f/1.7.
It started with some nostalgia after my father passed away last year. I bought an Asahi Spotmatic Co. Spotmatic II because that was the 35mm film camera that my father had when I was a child. I had it cleaned, lubed and adjusted (CLA) and shot a roll of FPP RetroChrome 400 Color Slide Film. Then I bought an ES II and had it CLA, shot a roll of Kodak Color Plus which I ruined in the washing machine. I bought rolls of Fuji Pro, Kodak Porta, Ilford HP5 Plus; expensive film. I found my dad's Canon EOS Rebel 2000 and kit lens, added a roll of film and went looking for a used EF 40mm lens. I also shot a roll of Ilford HP5 Plus 400 in a Pentax P3, a 35mm film camera from my college days. That roll turned out ok.
I got back into film photography because I thought it would be fun, but those failures were not fun, and I was wasting money on film developing and hoarding film. I am not having fun anymore, and things have become expensive.
I realised that I was spending more time and money on deprecated technology from the 1970s when it makes more sense to be saving to buy lenses for my Fujifilm X-T2. Last night I decided I would sell all but one of my film cameras. Actually, I want to sell all of the Pentax and the Canon and buy one good film camera, maybe a Pentax P3n. I just want it with one lens; a 40mm or 43mm.
---
More random bit. I spent some time today, creating a logo for my consulting business. Check out my logo on Looka.
---
I received a notice that after seven years, the Ever service is shutting down. All customer photos and videos are scheduled to be deleted from Ever servers on August 31, 2020. This is one of those services that I have used since 2012 but have not used since 2016. I had forgotten about. I logged into the website and exported my photos and videos (about 680 items) by capture year and then deleted my account.
In the set of files, I found this June 2016 screenshot from another service.
---
Which one of these responses is likely to be heard from me?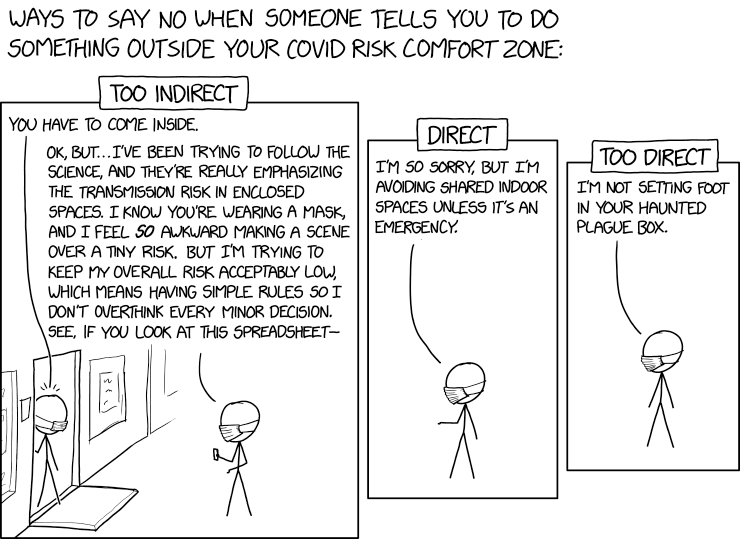 Submitted for the 100DaysToOffload project.